---
Other languages:


Aquí puedes presentar a otros las ideas realizadas o las ideas que estás considerando con motivo de la campaña. Puedes hacer un enlace a tu blog o página web.
Todavía falta el campo que estamos planteando para posibilitar la entrada directa del mensaje. Por eso tienes que enviar tus sugerencias a contact@TheColorOrange.net, poniendo 'Ideas para la campaña' en el campo Asunto.
---
Rap star goes Orange
The young female rap star Keny Arkana was wearing an orange T-shirt to one of her concerts in support of TheColorOrange project

---

Orange for Free Tibet
A 3-meters high sculpture made by Gauthier Dupuy in Gruissan as an appeal for human rights in Tibet

---

Celebrities in Copenhagen
Danish celebreties support The Color Orange. On the occasion of the opening og the Olympics i China, many Danish celebreties dressed up in orange scarfs, in Copenhagen. They wanted to secure, that the opening og the Olympics, was not only presenting China as a well-functioning and modern country.

---

7 de agosto: Solicitud para poderse manifestar en Pekín
Aquí nosotros solicitamos permiso para realizar varias manifestaciones Orange en las zonas de protesta asignadas. Somos parte del proyecto TheColorOrange.net, el cual usa el color naranja para llamar la atención sobre los derechos humanos en China.

---

Acción Naranja en Alicante, España
Oscar Gimeno y el grupo local Naranja en Alicante han colocado banderas naranja en palmeras.

---

2 de julio: China debe ser celebrada – y denunciada
Carta abierta a los participantes de los JJ.OO. de 2008 distribuida a cerca de 30.000 miembros de parlamentos de todo el mundo. Por favor envía esta carta a los atletas olímpicos de tu país y pídeles que hagan una pequeña contribución por la lucha de los derechos humanos.

---

1 july:Kunst gegen Staatswillkür: The Color Orange
Sommerausstellung des Kunstraums unterstützt Projekt von Jens Galschiot .Die Ausstellung läuft vom 1. Juli bis 31. August 2008,im Kunstraum in den Ringstrassen Galerien, Kärntnerring 9-13, 1010 Wien.

---

Orange sommerfugleaktivister på Roskilde festival
Orange workshop, sommerfugleeffekt, uddeling af orange armbånd og underskriftindsamling på festivalen Orange aktivister står klar til at sætte fokus på menneskerettighederne i Kina, når op mod 100.000 festivaldeltagerne fra hele Europa mødes på Roskilde festivalen.

---

15 June: Bitter Orange
A dance show by the association Gymnastique volontaire of Gruissan based on the idea of The Color Orange

---

PETICIÓN: Apoyan a Las Madres de Tiananmen
Firma la petición para demostrar que la masacre y sus víctimas no han sido olvidadas.

---

Campaña 64
Lleva el número 64 en tu camiseta y solidarízate con el Movimiento Democrático Chino.

---

Isabelle Duffaud supports the idea
"We need to be stronger all together"

---

¡Los artesanos colaboran con The Color Orange!
Como parte de la campaña, los artesanos realizaran prendas de punto, mantas, joyas, papiroflexia y otras manualidades que serán llevadas durante los Juegos Olímpicos.

---

Can China ban the color orange - banner

---

Tibetan flags around Mont Blanc
Pascale Ribault from France launches a remarcable project: to put a Tibetan flag on each summit over 4000 m high around the Mont Blanc.

---

TheColorOrangeBanner for your website,
29 april:Martin Rude from Denmark has made this cool flashbanner, you can put it on your website and support thecolororange through publicity.

---

Flemming Erslev supports TheColorOrange
Flemming Erslev has put info on his webpage about The Color Orange, bringing ideas for the use of color orange, and also he has published contributions and appeals printed on orange paper(the great majority in Danish)

---

Marie has written a French blog about The Color Orange

---

Orange Skies
Georgia has written the poem Orange Skies, and on her website she is inviting people to support the campaign

---

Tom Levold has written about The Color Orange in his German System magazine

---

23 April: Go Orange in 2008: An article by Dan Bloom
A Danish artist has launched a global protest campaign against human rights abuses in China using the color orange. It's a brilliant idea, simple and completely non-violent and peaceful. He wants people who attend the Olympics in Beijing this summer to wear orange-colored shirts, hats, neckties, shoes and dresses...

---

21. juni: Aktion på gågaden i Odense og møde på Galleri Galschiøt om Kina, sport, politik og Orange
Fra kl. 18 serveres pølser på grill. Debatmøde kl. 19 i galleriet med Frank Aaen (Enhedslisten), Jens Galschiøt (TheColorOrange), Anja Bollerup-Jensen og Peder Pedersen (tidligere verdensmester i cykling)

---

17 de Abril: La Antorcha Olímpica será recibida con acciones naranja cuando llegue a China.
El Movimiento Democrático Chino de Hong Kong, en cooperación con el artista danés Jens Galschiot, van a asegurarse de que se realicen acciones naranja también en territorio chino, poniendo en el punto de mira los derechos humanos en China durante los relevos de la Antorcha y en las subsiguientes ceremonias en Hong Kong.

---

14 de abril: La pluma es más fuerte que la espada
¡Es la hora! Puedes marcar la diferencia respecto a los derechos humanos en China. Ayúdanos a difundir la idea y el símbolo de TheColorOrange, involúcrate en el debate en tu país, pueblo o ciudad,escribe cartas a periódicos, contacta a la prensa, aparece con prendas de color naranja en reuniones, eventos deportivos, y sugiere que usen el ColorNaranja a los que vayan a ir a las Olimpiadas de Beijing.

---

A beautiful orange poem by Noelene Bishop

---

Mikkel has written a Danish blog about the color orange

---

Orange Digt

---

1 abril ¡Ayúdanos a realizar acciones Naranjas cuando la Antorcha Olímpica Continúe!
Después de la ruta planificada a través de Grecia la Antorcha continuará de mano en mano en diferentes países de todo el mundo. ¡Quizá tú estés en el sitio apropiado en el momento apropiado! Aquí encontrarás el itinerario de la Antorcha.

---

Anne Risum, Denmark, has some great ideas for artistic orange postcards
Anne is a visual artist from Denmark. Read about her ideas for the campaign

---

Oscar Gimeno has written about the campaign in a Spanish blog

---

Tom Levold supports TheColorOrange
Tom Levold has put info on his webpage about TheColorOrange

---

Peace, safety, health and justice...
Marcia Tavernese, visual artist in Canada, sent us an image as her gift to the project. It was created in response and support of the efforts of the campaign

---

Orange, the Color of Oppression
This is what Songshen from Norway hopes for the Color Orange to become. Inspired by the symbolism of the color, he added a link to his own website with descriptions and images about the campaign. Also he has made a video to the Color Orange song, which you can see on YouTube too

---

24 de marzo: Encendido de la llama olimpica
10 activistas daneses salieron de Dinamarca con destino a la ceremonia de entrega de la antorcha olímpica al Comité Olímpico de Pekín el 30 de marzo en Atenas. Los activistas vestirán de naranja y seguirán el recorrido de la antorcha los tres últimos días desde Larisa (el 28 de marzo), también tratarán de difundir la ida de usar el color naranja como critica a la situación de los derechos humanos en China durante la olimpiada de Pekín 2008.

---

Poland is in!
A link from Poland with a logo.

---

14 de marzo. Naranjas, naranjas… ¿Quién quiere naranjas?
Helena Mikas recibió como regalo de un contacto en el Tibet una pulsera naranja. El color estaba inspirado en la campaña The Color Orange. Puedes informarte de la campaña de "la pulsera de la libertad" en su blog.

---

Chinas Genocide Olympics
Una colección de enlaces

---

6th March, Color Orange videos on YouTube
Jack Churchward, Florida, has uploaded two Color Orange videos with delicious words and oranges..

---

Olympic Knives
Brian Felde sent this olympic logo, which is set up around the Chinese character for knife

---

February 2008, Mandala blog about Color Orange
Charlotte Wulff Kreipke has written about the project in a Mandala blog. This initiative gave a lot of positive comments from new supporters..

---

February 22nd, Cooking for humanity
Eva Szazs is using The Color Orange in her food-blog

---

My Space and The Color Orange
Thune Kirk from Denmark has opened My Space profile for The Color Orange

---

Helena Mikas in Berlin
Blog: Helena Mikas in Berlin. The Colour Orange is calling you .

---

A Danish poem about the 5 Olympic rings by Bjarne Kim Pedersen
Bjarne Kim Pedersen has written a poem about OG in China, The Color Orange and the 5 olympic rings

---

Wikipedia and The Color Orange

---

Inspiration from China: How to find prominent people and organisations ready to support us
---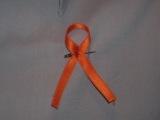 Man kan bære orange bånd, evt. som sløjfe (se billede). En let og billig men demonstrativ løsning (båndet koster kun få kr. pr. meter).
Med venlig hilsen
Flemming
---
Back to:
Warning: opendir(/customers/thecolororange.net/thecolororange.net/httpd.www/files/): failed to open dir: No such file or directory in /customers/9/f/6/thecolororange.net/httpd.www/index.php on line 205
---
---
17July: Tour de France and TheColorOrange in Narbonne, photos
---
2 July:
Open letter to the participants
of the OG2008 distributed to about 30,000 MPs all over the world.
---

---
Videos and other information about the activities in Hong Kong
---
---
---
---
---
30 April: Make pieces of orange cloth and tie them on to sculptures all over the cities where you live and give moral support to the Chinese democracy fighters.
---
28 April: Declaration

from TheColorOrange team that was refused entrance into Hong Kong

---
TheColorOrange in Hong Kong

26 April to 6 May
See all the latest news and pictures
of our orange activities in Hong Kong
when the Olympic Torch arrives

---
17 April: Olympic Torch will be met

with orange actions when it comes to China
---
28 March 2008

Greek police bans orange clothes
during Olympic Torch Relay
---
The Chinese democracy
movement backs
The Color Orange Campaign
The Hong Kong Alliance, one of the cornerstones
of the Chinese democracy movement has now
decided to join the orange manifestations.
see News
---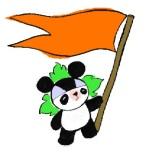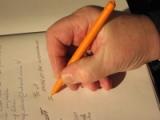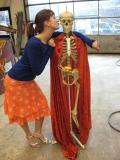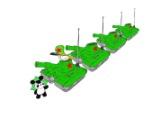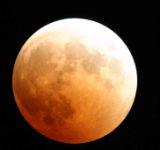 ---