---
Other languages:

see all the documents, photos and videos about Hong Kong
**************
The government has just declared to Steve Chan from Hong Kong Economic Journal, that our three activists were sent back home, because of lack of insurance papers for making an art installation in Victoria Park in connection to the WTO meeting in Hong Kong, December 2005.
We have sent a reply to the Hong Kong Economic Journal with the following text:
Thanks a lot for the information of Hong Kong government's statement about our insurance papers. We can inform you, that if Hong Kong's government said, we don't have our insurance papers in order; this is a shear lie, and they must know that, because as you can see on the attached document, this was exact the condition of setting up the sculpture.
We have sent the following papers to the government of Hong Kong, so this must be the world's worst apologize for not allowing three men entering Hong Kong. We had 16,313,900 Hong Kong Dollar in insurance. We attach the three documents,
see all photos from Galschiots Mad Cow Disease art installation at the WTO meeting in Hong Kong
Letter from Leisure and Cultural service department about the condition for the sculpture erection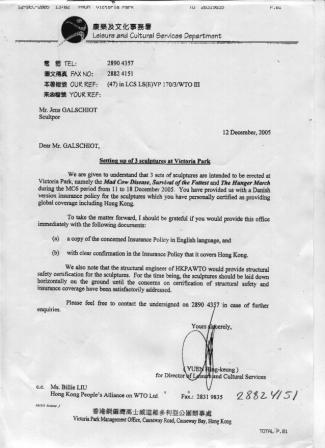 Letter from Danish Insurance firm to confirm the dkr 10 millions insurance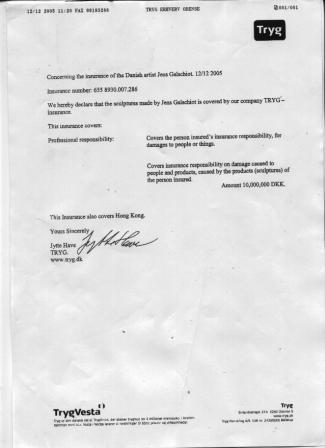 Insurance number sent to the government of Hong Kong SAR Dec 2005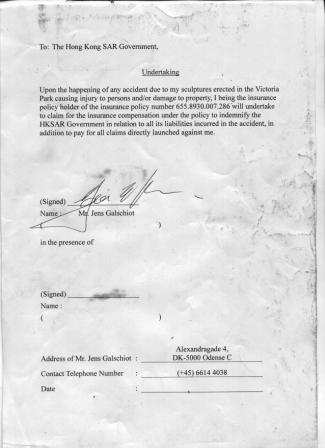 ---
Back to: