---
Contact address:
The Color Orange
Banevaenget 22
DK-5270 Odense N
Denmark
Tel.: +45 6618 4058
Fax: +45 6618 4158
E-mail : contact@TheColorOrange.net
Webside: www.TheColorOrange.net
Who is behind the idea
of The Color Orange?
It is the Danish sculptor Jens Galschiot and his art workshop (Art in Defence of Humanism, AIDOH www.aidoh.dk) that is behind the 'Colour Orange' project.
Galschiot thinks of art as nonverbal communication and he often uses his art to make international art happenings to place focus on defenders of humanism. He usually uses his sculptures as artistic manifestations, but as a result of the extremely limited Freedom of Speech at the Olympics in 2008, he has chosen the colour orange. He funds his art events himself mainly through the sale of bronze sculptures to art collectors and he is therefore completely independent from political, economic and religious interests.
Jens Galschiot says: "This is not really a campaign in the traditional sense. The project has to work as a catalyst for some kind of wave or feeling that repeats itself over and over again and that flushes all over the world. It is more related to poetry and art than to actual political activism. It is a global history that tells itself. You can say that we are launching a fight against a totalitarian regime about their monopoly of the interpretation of reality.
The project will, through its own dynamics, function as what Joseph Beuys has called a "Gesamtkunstwerk" in which the distinction between the artist, the art itself and the viewer has become blurred. Everybody becomes part of the art even if they want it or not, either through what they do or through what they avoid doing. Many people will start to wear the colour orange to support the campaign; while others who might already be wearing orange will start wearing other colours. Their expression will be noted whatever they decide to do. An unpredictable factor in this is of course how the Chinese authorities will react. They might easily bring themselves into a situation in which they involuntarily will look comical.
Contact to Jens Galschiot
Jens Galschiot
Banevaenget 22
DK-5270 Odense N
Denmark
Tel.: +45 6618 4058
Fax: +45 6618 4158
E-mail: aidoh@aidoh.dk
Internet: www.aidoh.dk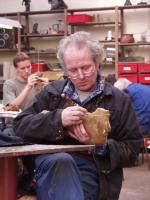 ---
Back to: