---
Kontakt-adresse til The Color Orange
The Color Orange
Banevænget 22
DK-5270 Odense N
Tlf.: +45 6618 4058
Fax: +45 6618 4158
E-mail: contact@TheColorOrange.net
Internet: www.TheColorOrange.net
Hvem står bag ideen
The Color Orange?
Det er den danske billedhugger Jens Galschiøt og hans kunstværksted www.AIDOH.dk (Art In Defence Of Humanism) der står bag projektet 'The Color Orange'.
Galschiøt opfatter kunst som nonverbal kommunikation og bruger ofte sin kunst til at lave internationale kunsthappenings der sætter fokus på forsvaret for et humanistisk menneskesyn. Normalt bruger han skulpturer til sine kunstneriske manifestationer, men pga. de snævre grænser for ytringsfriheden ved OL 2008 har han valgt farven orange. Han finansierer selv sine kunst-eventer igennem salg af sine bronze-skulpturer til kunstsamlere og han er således fuldstændig uafhængig af politiske, økono­mi­ske og religiøse interesser.
Galschiøt udtaler om projektet: "Der er i virkeligheden slet ikke tale om en kampagne i traditionel forstand. Eventen skal fungere som katalysator for en slags bølge eller følelse der går i selvsving og skyller hen over kloden. Den er langt mere beslægtet med poesi og kunst end egentlig politisk aktivisme. Det er en global historie som fortæller sig selv. Man kan sige at vi indleder en kamp med det totalitære styre om fortolkningen af virkeligheden.
Inden for meteorologien og fysikken opererer man med en 'sommerfugle-effekt' der siger at verden er så kompleks og sammenhængende, at en sommerfugl der basker med vingerne i Kina vil kunne udløse en storm i Californien. Projektet Farven Orange kunne blive en sådan sommerfugl", fortæller Jens Galschiøt og fortætter "Jeg vil udfordre og teste grænserne for de strukturelle og kommunikationsmæssige muligheder som globaliseringen har frembragt."
Projektet vil i kraft af sin dynamik fungere som det Joseph Beuys kaldte et 'Gesamtkunstwerk'. Grænserne mellem kunstner, kunstværk og beskuer er udvisket. Alle bliver en del af værket, om de vil det eller ej, enten i kraft af det de gør eller det de undlader at gøre. Mange vil bevidst støtte kampagnen ved at tage farven orange til sig. Andre som i forvejen går klædt i orange vil måske foretrække, eller føle sig tvunget til, at skifte til en anden farve. Hvad end de gør, vil udtrykket være markant. En uforudsigelig faktor er hvordan myndighederne (undertrykkerne) vil reagere. De vil meget let kunne bringe sig i en situation hvor de fremtræder ufrivilligt komisk.
Kontakt til Jens Galschiøt:
Jens Galschiøt
Banevænget 22
DK-5270 Odense N
Tlf.: +45 6618 4058
Fax: +45 6618 4158
E-mail: aidoh@aidoh.dk
Internet: www.aidoh.dk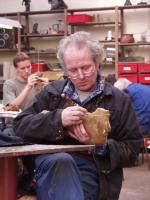 ---
Back to: