---
Dirección de contacto a The Color Orange:
The Color Orange
Banevaenget 22
DK-5270 Odense N
Dinamarca
Tel.: +45 6618 4058
Fax: +45 6618 4158
Correo electrónico: contact@TheColorOrange.net
Internet: www.TheColorOrange.net
¿Quién es el iniciador de
The Color Orange?
Es el escultor danés Jens Galschiot y su taller artístico www.AIDOH.dk (Art In Defense Of Humanism) que está tras el proyecto "color naranja". Galschiot considera el arte como comunicación no-verbal y usa a menudo su arte para la realización de happenings artísticos que enfocan en la defensa de lo humano. Normalmente - en sus manifestaciones artísticas - él usa esculturas, pero por razón de las estrechas limitaciones para la libertad de expresión durante los Juegos Olímpicos 2008, ha escogido el color naranjo. Él financia, él mismo, sus eventos artísticos a través de la venta de sus esculturas en bronce a coleccionistas de arte, y es de esta manera totalmente independiente de intereses políticos, religiosos o económicos.
Contactar a Jens Galschiot:
Jens Galschiot
Banevaenget 22
DK-5270 Odense N
Dinamarca
Tel.: +45 6618 4058
Fax: +45 6618 4158
Correo electrónico: aidoh@aidoh.dk
Internet: www.aidoh.dk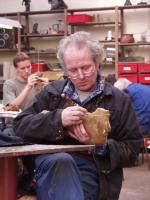 ---
Back to: