---
Adresse pour contacter The Color Orange:
The Color Orange
Banevaenget 22
DK-5270 Odense N
Danemark
Tel.: +45 6618 4058
Fax: +45 6618 4158
Courriel: contact@TheColorOrange.net
Internet: www.TheColorOrange.net
Qui est l'iniciateur de
The Color Orange?
C'est le sculpteur danois Jens Galschiot et son atelier www.AIDOH.dk (Art in Defence Of Humanism) qui sont derrière le projet 'la couleur orange'.
Galschiot considère l'art comme une communication non-verbale et se sert souvent de son art pour faire des happenings artistiques internationaux centrés sur la défense de l'humanisme. Normalement il se sert de sculptures à ses manifestations artistiques, mais à cause des limites étroites de la liberté d'expression aux JO 2008 il a choisi la couleur orange. Il finance lui-même ses évènements artistiques par la vente de ses sculptures de bronze à des collectionneurs d'art et est ainsi complètement indépendant d'intérêts politiques, économiques et religieux.
Galschiot s'exprime sur le projet : En réalité il ne s'agit pas d'une campagne dans le sens traditionnel. L'évènement doit jouer le rôle de catalyseur pour une sorte de vague ou sentiment qui s'amplifie et balaie le globe. Il est beaucoup plus proche de la poésie et de l'art que de l'activisme politique proprement dit. C'est une histoire globale qui se raconte. On peut dire que nous entamons une lutte avec le régime totalitaire sur l'interprétation de la réalité.
Dans le domaine de la météorologie et la physique, on parle d'un' effet de papillon' qui dit que le monde est si complexe et cohérent que le battement d'ailes d'un papillon en Chine peut provoquer une tempête en Californie. Le projet 'couleur orange' pourrait devenir un tel papillon' raconte Jens Galschiot et continue, je voudrais défier et tester les limites des possibilités structurelles et communicatives produites par la globalisation'.
Grâce à son dynamisme, le projet sera ce que Joseph Beuys a appelé un 'Gesamtkunstwerk'. Les frontières entre l'artiste, l'œuvre et le spectateur sont effacées. Tous feront partie de l'œuvre, qu'ils le veuillent ou non, soit par ce qu'ils font, soit par ce qu'ils s'abstiennent de faire. Beaucoup soutiendront consciemment la campagne en adoptant la couleur orange. D'autres qui sont déjà vêtus d'orange préféreront peut-être où se sentiront obligés de changer pour une autre couleur. Quoi qu'ils fassent l'énoncé sera marquant. Un facteur imprévisible sera la réaction des autorités (les oppresseurs). Elles pourraient facilement se mettre dans une situation comique malgré elles.
Contact à Jens Galschiot:
Jens Galschiot
Banevaenget 22
DK-5270 Odense N
Danemark
Tél.: +45 6618 4058
Fax: +45 6618 4158
Courriel: aidoh@aidoh.dk
Internet: www.aidoh.dk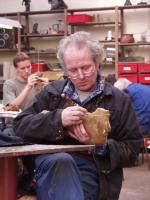 ---
Back to: